Craving the ultimate relaxation experience on your next beach vacation? Look no further than an inflatable lounger. These compact, portable, and incredibly comfortable loungers are revolutionizing how we relax on the beach, at the park, or even in our backyards. In this guide, we will introduce you to the best inflatable loungers on the market, each selected for their unique features, comfort, and durability.
1. Nevlers Inflatable Lounger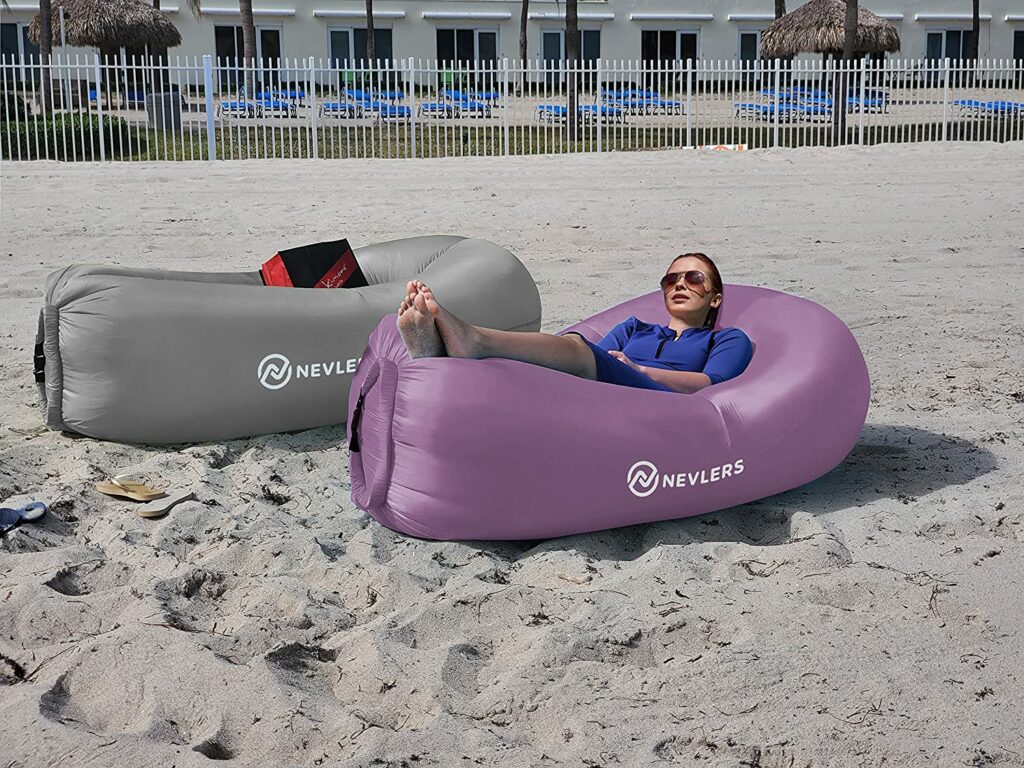 Our top pick among the best inflatable loungers is the Nevlers Inflatable Lounger. Its quick 30-second inflation time and over 20 color combinations make it a standout choice for beach-goers.
The lounger comes with a carrying case and ground peg to keep it in place, and three differently sized pouches perfect for storing gadgets, snacks, and drinks. With a generous weight rating of 450lbs, the Nevlers Inflatable Lounger is ideal for sharing or for those wanting a little extra lounging space. Discover more about this top-rated inflatable lounger on Amazon today.
Pros:
Quick 30-second inflation time.
More than 20 color options for personalized style.
Includes a carrying case and ground peg for convenience and stability.
Three different sized pouches offer ample storage for beach essentials.
Generous weight capacity of 450lbs allows for shared use.
Cons:
The fast inflation time may require some practice to master.
Being a two-pack, it might be more than needed for solo beach-goers.
2. AlphaBeing Inflatable Lounger
When it com es to a day at the beach, the less you have to pack and carry the better. That's what makes the AlphaBeing Inflatable Lounger so great, no air pump required, the lounger is filled by scooping air around it and tying it shut. And with over 15 color and pattern choices, this lounger is sure to impress.
With two mesh pockets on one side and an elastic strap on the other and an included bottle opener, all of your favorite beach snacks and beverages are within arms reach. And you can feel safe and secure having a couple friends chilling with you as this lounger has weight capacity of 400lbs.
Pros:
No air pump required for inflation, making it easy to pack and carry.
Over 15 color and pattern choices for a customizable aesthetic.
Handy features like two mesh pockets, an elastic strap, and a bottle opener.
Durable with a weight capacity of 400lbs.
Cons:
Pump-free inflation might be challenging in areas with low wind.
While durable, its weight capacity is less than the other two options.
3. WEKAPO Inflatable Lounger
The WEKAPO Inflatable Lounger is a beach goers dream! This inflatable lounger doesn't require a pump to fill, has side pockets, ground stake, carry bag and bottle opener. With the addition of a pillow shaped headrest, this is sure to be the most comfortable seat at the beach.
With 16 great colors and patterns to choose from and an impressive 650lbs weight capacity, this is a great inflatable lounger for the big and small and families.
Pros:
Does not require a pump for inflation.
Comes with side pockets, a ground stake, carry bag, and bottle opener for added convenience.
Features a pillow-shaped headrest for superior comfort.
Offers a wide range of 16 colors and patterns.
Boasts an impressive 650lbs weight capacity, suitable for larger groups or families.
Cons:
The premium features come with a higher price tag.
With so many color options, making a choice could be a daunting task for the indecisive.
Again, inflation could be challenging in calm conditions.
Benefits of having an Inflatable Lounger
There are many benefits to using inflatable loungers, especially if you're looking for a comfortable way to relax after a day of fun. Not only are they easy to transport, but they're also versatile and can be used in a variety of settings. Plus, they're perfect for keeping you cool and comfortable during hot weather conditions.
Here's a great video showing how to inflate a AlphaBeing Inflatable Lounger:
Common Questions About Inflatable Loungers
Can inflatable loungers be used in the water?
Yes, inflatable loungers can be used in the water. Make sure that when using an inflatable lounger in water, that you're using it in an area where it can't float away and remember that it isn't a life-saving device.
How do you wash your inflatable lounger?
Most dirt or imperfections should brush off with a dry cloth. Any marks that are more stubborn can be spot cleaned using a mild detergent with a damp cloth if needed. Ensure the inflatable lounger has been air dried before storing in carry bag.
How long does it take for an inflatable lounger to dry?
Depending on how wet your inflatable lounger is, it took take up to 5hrs to dry completely.
Conclusion
There are many great options for inflatable loungers, however, my top pick would be the WEKAPO Inflatable Lounger.
Choosing the best inflatable lounger can significantly enhance your beach or outdoor experience. Whether you opt for our top pick, the Nevlers 2 Pack Inflatable Lounger, the value choice AlphaBeing Inflatable Lounger, or the premium WEKAPO Inflatable Lounger, you can be assured of quality and comfort.
For more options and details on outdoor relaxation, check out our guide to the Best Portable Beach Lounge Chairs.