Considering how hot it can get on the beach, there's nothing more refreshing like a cold drink. So, bringing the best beach cooler with wheels to the beach is worth considering.
These coolers save you from having to carry your bulky, electricity-dependent home cooler to the beach. They can ride over soft sand with ease and can accommodate as many drinks and snacks as you want.
I'll take you through a buying guide to help you buy the best one. Additionally, I'll recommend five portable beach coolers on the market and I'll address the most frequently asked questions.
In case you just want to make a purchase right away, below are my top 3 recommendation.
The 3 Best Beach Cooler with Big Wheels
Detailed Buying Guide for the Best Beach Cooler with Wheels
Here are key considerations when shopping for wheeled beach coolers:
Quality Build
Beach coolers don't come cheap. They are among the most expensive beach gears. So, if you are looking to find real value in the purchase, consider going for quality construction.
For starters, look at the materials that make up the cooler and ensure they are durable. Preferably, the cooler's body should be one-piece molded plastic as it is relatively strong, sturdy, waterproof, and lightweight
Cooler Capacity
Beach coolers come in a wide variety of sizes. Some are bigger than others, and so it depends on your preference and budget.
If, for example, you just need beverages enough for your family, it could be economical to buy a 50-quart beach cooler or something less.
However, if you plan to camp as a large group, maybe with friends, consider an 80 plus quart capacity.
Cooler Size
While the beach cooler capacity determines the number of drinks you can keep chilled, the beach cooler size determines its storage. You have to think about the storage space that you have, and if it's possible to hoard the cooler there comfortably.
The other consideration is the transportability of the cooler. Generally, a good size beach cooler with sand wheels should fit comfortably at the back of your truck or in the trunk.
Draining
The reality is that ice starts melting as soon as you open the beach cooler. So, the more you live it uncovered, the more the ice melts.
The problem with the ice melting goes beyond the beach cooler not keeping beverages cold. If more ice melts, your drinks and snacks become flooded.
Since you cannot avoid opening the cooler entirely, what you can do to stop the melt from turning into a flood is to consider coolers with low drain holes.
Wheel Size
The wheel size has a massive impact on the way you use a beach cooler. Knowing that you'll be towing it over soft sand, consider going for a beach cooler with big wheels.
The wheels of such a cooler do not sink into the sand. Instead, they roll over, making it effortless to tow the wheeled structure.
Overall, small wheels work on smooth terrains, but you need larger and thicker ones to conquer a rugged terrain like the beach.
Insulation
When the sun is glaring down the beach surface, you need your cooler to retain the ice for long so that your drinks and snacks can remain cold.
So, your cooler must come with a thick insulation layer to encourage optimal ice retention and maximum cooling.
Generally, the thicker the insulation layer, the less the ice melts, and the longer the ice retention. In the end, your drinks get to stay chiller as long as the ice is retained.
Handle
There are two aspects of the handle that matters when it comes to wheeled beach coolers.
Firstly, you have to consider their sturdiness.The cooler should have sturdy handles, and they should provide you with sufficient grip to allow easy towing. Most handles are made from aluminum, which is known to be a sturdy metal.
Secondly, you have to consider the handle height. If you want to adjust the cooler with wheels for sand based on your height, consider going for a telescoping handle. A telescoping handle shall help you lift the cooler with ease.
Portability
Lastly, the essence of buying a wheeled cooler and not any other is to encourage portability. Though a majority of wheeled coolers are effortless to tow, you have to consider its general construction.
In particular, ensure that the wheels are not just big and thick but can also roll over-sand. Remember, not all wheeled coolers are designed for the beach, and that's why you should consider your options carefully.
The cooler should also be less bulky and not so heavy to allow easy towing.
Related Post: Best Beach Cart with Large Balloon Tires for Sand
5 Best Beach Coolers with Wheels Based on the Buying Guide
Based on our buying guide for the best beach cooler with wheels, here are the must-consider when shopping for the wheeled structure;
If you are looking for a compactly-built, large-wheeled portable cooler, very few options are as effective as the YETI Tundra Haul Portable Wheeled Cooler.
The rolling beach cooler is YETI's first wheeled cooler, and I must agree that they have done an excellent job on it. The compactly built wheeled cooler comes in stylish colors like seafoam, coral, and tan.
It weighs 32 lbs and measures 28.2 by 18.6 by 19.5 inches, thus easy to fit in your car's backseat or trunk.
Things You'll Like:
Fat wall design – Features a two-inch-thick insulation layer that promotes incomparable ice retention.
Rotomolded plastic construction – Gives the cooler a compact and almost indestructible body. The structure guarantees durability.
Single-piece tires – They are designed with anti-puncture and impact-resistance properties. As a result, they also guarantee durability.
Permafrost insulation – The pressure infused foam keeps the lid and the cooler walls tight to retain ice and keep your beverages and food cold for long.
Firm hand grip – Makes it easy for you to tow the wheeled cooler on the beach.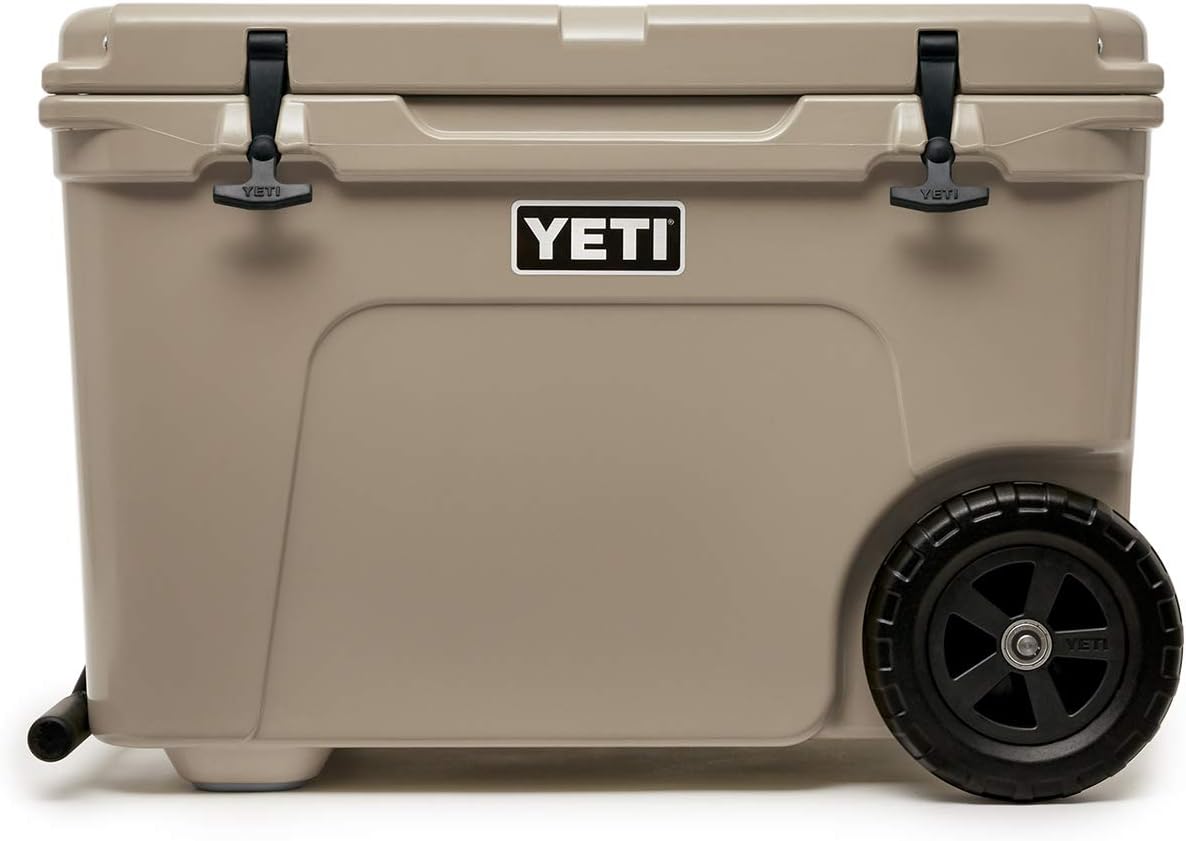 The Igloo Glide Pro 110 Roller (EA) is the perfect definition of strength and resistance. The compactly-built cooler resists both sun damage and physical impact. Simply put, it is another almost indestructible beach cooler.
The cooler with big wheels for sand is readily portable and promises to keep your drinks and snacks chilled for long. Therefore, you'll enjoy towing this cooler on the sand, but you'll enjoy its performance even more on the beach.
It weighs 25.4 pounds and measures 39.8 by 18.5 by 19.7 inches.
Things You'll Like:
Anti-UV construction – The cooler employs advanced technology to resist the damaging effects of sun exposure.
Cushioned telescopic handle – It makes it easy to lift and tow the beach cooler.
Threaded drain plug – Allows the melted ice to drain freely and slowly.
Soft-ride wheels – Makes it more natural to move the wheeled cooler on the sand.
Are you looking for a large capacity cooler to invest in? Then consider the Coleman Rugged 55-Quart Wheeled Cooler.
The cooler can hold up to 84 drink cans, and that's not all. You can even sit on it as it's solidly-built to hold up to 250 pounds.
The Coleman Rugged 55-Quart Wheeled Cooler is readily portable and quite versatile in application. Not only is the cooler perfect for beach camping but also hikes and picnics.
The best rolling cooler for beach weighs 11.9 lbs and measures 22.6 by 17.6 by 17.5 inches.
Things You'll Like:
Large 8-inch wheels – Make it effortless to move the cooler on soft sand and other harsh terrains.
55-quart capacity – This translates to at least 84 drink cans, which makes the cooler one of the largest on the market.
No-crush handle – Comes handy when it comes to lifting and carrying the cooler, in case you prefer not to wheel it.
Excellent insulation – The cooler can hold ice for about five days at a temperature of about 90 degrees Fahrenheit.
Are you looking for a budget-friendly family-size wheeled beach cooler? Then what you need is the Igloo Cooler Box. The family-friendly beach cooler has a 28-quart capacity, which translates to about 26 liters of storage.
It is lightweight (4.7lbs) and small-sized (18.37 by 13.27 by 16.52 inches). As a result, the big cooler with wheels is readily portable. You can throw it at the back of your car seat or trunk.
Things You'll Like:
A push-button telescoping handle – Allows you to pull the beach cooler depending on your height.
Side scoop handle – Provides you with an additional way of lifting the cooler, more so when it's loaded.
Elevated design – Ensures the cooler doesn't come into close contact with the ground. As a result, it improves the cooler's cooling effect.
Soft sport wheels – Make it easy to pull or push the wheeled cooler in the outdoors.

Excellent insulation – Enjoys a 3-day ice retention timeline on average.

The Igloo Marine Ultra Cooler promises optimal insulation and ice retention. It comes in a compact design that fits well in your car seat or trunk.
In actuality, the Igloo cooler with wheels looks like a travel suitcase. It weighs 13 lbs and measures 20.39 by 18.11 by 19.05 inches.
Things You'll Like:
Ultratherm insulation – The impressive technology keeps your snacks and drinks chilled for longer.
Telescoping handle – Makes it effortless to pull the beach cooler. Also, it makes the storage of the beach cooler easier.
In-molded side handles – Allows you to lift the cooler box in and out of your car.
Robust wheels – Let's you push or pull the beach cooler.
Internal shelf-ledge – Provide you with adequate usable space for drinks and other consumables.

Related Post: Best Beach Chairs with Backpack Straps
FAQs about the Best Beach Cooler with Wheels
1. Which Is The Best-Wheeled Beach Cooler?
I just love the convenience and insulation potential of the YETI Tundra Haul Portable Wheeled Cooler. Its durable design is unparalleled while its large wheels make its maneuverability on sand easier than most.
In my view, therefore, the YETI Tundra Haul Portable Wheeled Cooler is the best overall.
2. How Can I Clean A Big Wheeled Beach Cooler?
The biggest threats to the life of your cooler are saltwater and sand. So, you have to clean them off after using the cooler.
You should clean and rinse with fresh water both inside and outside. Also, do not forget to clean the wheels and handles as they also trap sand and salt deposits.
After cleaning, drain all water and allow the cooler some time to dry.
3. How Can I Get The Most Out Of My Beach Cooler?
Firstly, ensure you clean your cooler after every use. That will stop mold from forming.
Secondly, do not overload your beach cooler. You may end up hurting its wheels if you do.
Lastly, you can make your ice cubes and use them. All you have to do is to freeze water-filled ice pack balloons.
4. How Long Does A Beach Cooler Keep Ice Unmelted?
It all depends on how frequently you open the beach cooler and for how long. For instance, if you leave your beach cooler open under the sun for a long time, the ice will melt.
But still, having enough ice in the cooler is a significant determinant. Best coolers with wheels keep ice unmelted for a day if you use the right amount of ice pack.
5. For How Long Does A Beach Cooler Work?
It depends on the insulation material. Generally, polyurethane offers the best insulation.  With it, a cooler can retain ice for about a week.
But in case you open the cooler often, then the retention time will reduce.
6. How Important Is The Wheel Size Of A Beach Cooler?
Sand is not a smooth terrain for towing a beach cooler with small and thin wheels. Such wheels tend to sink into the soft sand, inhibiting the towing.
Bigger and thicker wheels, on the other hand, ride over the soft sand, making it easy to tow a wheeled cooler. So, consider going for big and dense wheels.
Conclusion
In conclusion, buying the best beach cooler with wheels could be the best investment decision you'll even make, in as far as beach camping is concerned. It ensures you can take your drinks and food as cold as you want.
So, make the order now to enjoy the best-wheeled beach cooler!