Sand is naturally loose and grainy, and that makes it an unfavorable surface to walk on barefooted. Don't be discouraged; however, as the best beach shoes to keep sand out can make all the difference.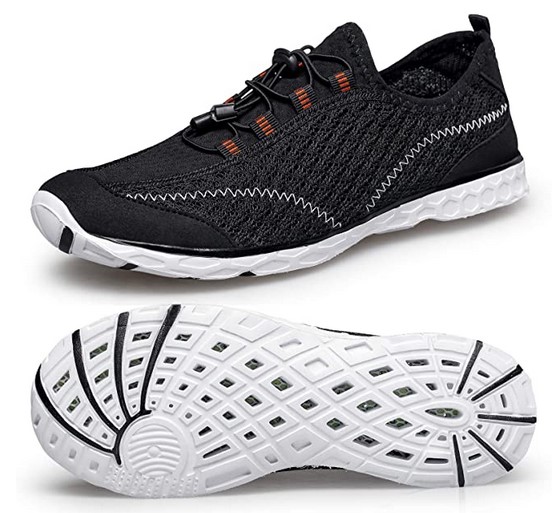 Such shoes are not just protective and comfortable but also strong and adaptive to different beach terrains. With them, you can hike on the beach as you marvel at God's beautiful creations.
Some even allow you to run over short distances or play volleyball.
The 3 Best Shoes for Walking the Beach
What Are Beach Shoes for Sand?
They are walking shoes that feature a sturdy, flexible sole and a breathable upper. Sometimes, these shoes are known as water shoes since they also protect the feet from the wet conditions of the beach.
Beach walking shoes come in different designs, with a majority resembling sandals and a few others having a hiking-sporty look. These shoes are worn without socks to make them more breathable.
Why Do You Need the Best Beach Shoes to Keep Sand Out?
Generally, you need to wear the best beach shoes for these reasons:
Keep sand out – These shoes are designed to prevent sand from getting trapped under the feet. Some are open on the upper part and close to the sole to provide channels for letting sand out while others prevent entirely sand from getting in.
Keep water out – The best shoes for walking on hot sand feature a mesh upper and an outsole with drainage channels to discourage waterlogging. So, whenever you step on water, your feet get to dry faster as the water drains out quickly.
Feet safety – Beach shoes come with toe guards for securing your toes. Plus, their sole is sturdy to protect you from the abrasive sand, shells, rocks, and other objects on the beach. As a result, it becomes safer to walk on the beach.
Comfortable walk – Sand shoes come with thick soles that enjoy better traction on the beach. Consequently, it becomes more relaxed and more comfortable walking in them. They are also lightweight and breathable, and the properties improve their overall comfort.
Different Types of Beach Shoes for Sand
Below are five categories for beach shoes for sand. I have also recommended the best water shoes for keeping sand out for each type.
1. Women's Beach Shoes for Sand
Women generally like lightweight outdoor shoes, especially those with colorful shades and unique prints. Luckily, the best women's beach shoes tend to meet such specifications.
These shoes either take the sandal design or the hiking-sporty look. I tend to prefer the latter as it means having an all-round outdoor shoe.
The shoes are also breathable, comfortable, and supportive. More importantly, you can count on them to keep sand out.
My Pick – Merrell Women's Waterpro Shoes
Here's why:
The Merrell Women's Waterpro Shoes are the best shoes for beach walking for women because of their practicality and lavish properties. You can use them for hiking on the beach and getting to keep sand out while protecting your feet.
The shoes have amazing features like moisture-wicking, breathability, shock-absorption, and arch support.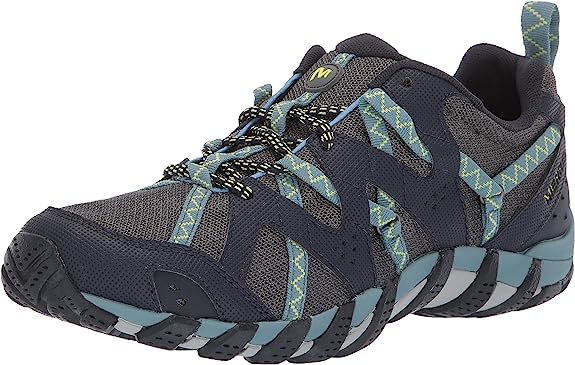 Plus, their quick lacing system ensures you secure them on your feet while their rubber sole gives them better traction on the beach.
2. Men's Beach Shoes for Sand
Men's beach shoes for sand are not just designed for walking on the beach but also for engaging in active sports like volleyball. So, they double up as hiking and sports shoes.
These shoes come in sturdy construction and enjoy better traction and comfort. So, if you are a man looking for all-round beach footwear, consider getting men's beach shoes for sand.
My Pick – Merrell Men's All Out Blaze Sieve Water Shoes
Here's why:
The Merrell Men's All Out Blaze Sieve Water Shoes come in durable construction, outlined by a synthetic sole and leather upper. The shoes are quite versatile to allow you to hike, run, and even work while wearing them.
The beach footwear not only keeps sand out but also secures your feet and absorbs shock. The highlight is that it's breathable and flexible to wear for long hours.
The beach shoes are lightweight and are available from size 8 to size 14. You'll also get them in multiple colors.

3. Toddlers' Beach Shoes for Sand
Your toddler is not forgotten when it comes to beach shoes for sand. So, you can also get him/her the best toddler beach shoes.
But what makes them unique?
These shoes are sturdily built to allow your kid to run on the beach and into the water safely. They are designed to keep the sand out and are highly comfortable for the little one.
Your kid is likely to walk comfortably on the beach with these shoes and can wear them for long.
My Pick – WateLves Kids Non-Slip Quick-Dry Toddle Shoes
Here's why:
These sand shoes for beach are just what they sound. They have a non-slip sole to protect your toddler from sliding and falling. Also, they are quick-dry, which means they dry much faster after contact with water.
The shoes are available in different sizes and colors and are generally lightweight. They also have a well-cushioned inner sole to improve the toddler's wearing comfort.
What's more, they are made from 92% polyester and 8% spandex, therefore breathable and flexible.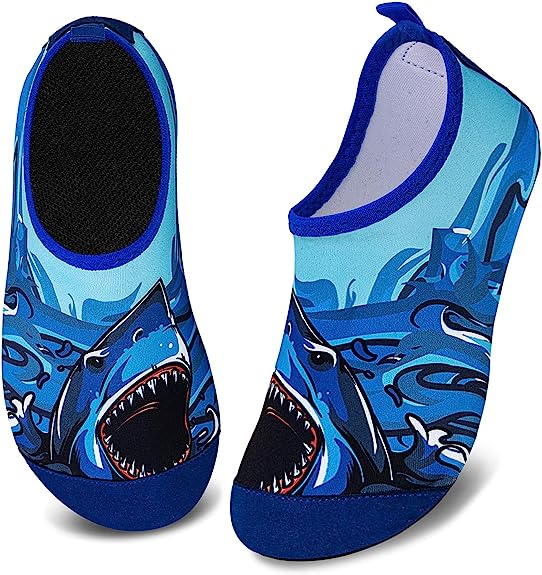 4. Beach Shoes with Arch Support
Foot injuries are common on beach hikes when wearing the wrong beach shoes. To ensure that you don't fall a victim, you should consider buying high arched best shoes for walking in sand.
These shoes absorb the extra pressure exerted by your feet. As a result, it becomes easier and safer to walk on the beach and engage in other beach-related activities.
They are lightweight, breathable, and naturally flexible.
My Pick – KEEN Women's Newport H2 Sandal
Here's why:
This women's beach shoe comes with a flexible multidirectional groove that improves your general ground contact.
Its sole is synthetic and flexible and features polyester webbing. Its midsole has a well-contoured arch to offer you both comfort and support.
The shoe is available in multiple sizes and colors.

5. Beach Shoes for Wide Feet
People with wide feet need to consider their options carefully when it comes to buying shoes. You wouldn't want to buy some expensive premium quality beach shoes that won't fit. S
Luckily, wide-feet shoes are available online, and they come with incredible properties. These shoes are lightweight, breathable, and comfortable.
They are also versatile to not only walk in them but also engage in other beach activities.
My Pick – Crocs Men's Swiftwater Mesh Sandal
Here's why:
If you are a fan of slip-on sandals and would want to wear them to the beach, the Crocs Men's Swiftwater Mesh Sandal is just perfect.
It features a water-friendly mesh that encourages fast-drying and breathability. The mens beach sandal has a protective toe guard that secures your digits.
It's also supportive, and this is evident through its pull-on loop on the heel. The footwear comes in different sizes and is effective at keeping sand out.

How About Water Shoes for Rocky Beaches?
Perhaps you are wondering if there are any cool shoes for a rocky beach. Yes, there are, and you can count on them to protect your feet and give you a comfortable hiking experience.
Most of the best water shoes for beach come in the form of comfortable boots, which means they are well built for the rocky terrain. Generally, they feature puncture-proof soles and a well-contoured footbed.
Interestingly, these shoes also keep water out, leaving your feet dry and fresh.
Are you wondering what footwear to wear on beach full of rocks? I recommend the Neo Sport Neoprene Puncture Resistant Wetsuit Boots
Here's why:
These shoes have a strongly-glued and puncture-proof sole to suit a rocky beach terrain. Plus, they have water entry barriers to prevent water from getting in, and their bottom is rugged to give you better traction.
Overall, their sturdy construction makes them suitable for the beach, deck, and other muddy/wet surfaces.
Relevant Post: Best Sand Proof Beach Blanket
Essential Features for the Best Beach Shoes to Keep Sand Out – The Buying Guide
While shopping for the best beach shoes for sand, these features are a must-consider:
Quality Material
The beach can be a harsh terrain. You not only need to worry about the abrasive sand but also the sharp rocks, shells, fallen branches, and even the strong waves.
So, you need shoes that can withstand it all and serve you longer. That's why the material quality comes before any other buying consideration.
You should look at the sole's gluing and stitching to ensure it is appropriately done. The sole should be sturdy, preferably rubber, and the upper part also needs to be of solid construction.
Good Drainage
Once you are on the beach, you are likely to step onto the water. When this happens, your shoes should allow the water to drain faster and make your feet dry.
Sadly, not all beach shoes have this capability, and that's why you should make it a priority. So, consider the best beach sandals for beach walking with a drainage system like a mesh upper and drainage holes on the outsole.
Breathability
Given that beach footwear acts as a barrier between your feet and the hot sand, you are likely to sweat. Also, water is expected to get into your feet and wet them.
Unless the shoes are breathable, such conditions can be unbearable. So, you need to look at the footwear carefully to identify open channels.
In particular, the upper foot and arch side shoe area should be breathable.
Flexibility
Your feet need the freedom to explore different beach environments. From rocky grounds to soft sand, the shoes should be adaptable.
Sand shoes for beach should never confine you to a rigid position as this can be discomforting and painful. So, consider soles that bend when you curve your feet and stretch when you stretch out your feet.
Also, the shoes' upper should be flexible to adapt to different terrains.

Comfort and Fit
Your beach shoes should feel comfortable. They should feature sufficient cushioning and should be of the right size. And if you have wide feet, put that into consideration too.
While prioritizing comfort, look for an option that has a cushioned heel, a breathable upper, and a well-drained lower area. The shoes should also be lightweight to make walking on the beach effortless.
With comfortable beach shoes, you'll never feel tired of walking on the beach.
Safety
The shoe construction has a lot to say about its safety. Remember, beach shoes are not just for comfort but also to protect your feet.
It starts with the toes. The shoes should come with toe guards to protect your vulnerable digits.
You also need beach shoes with excellent shock absorption. Walking on the beach is an impact activity that creates a shock that needs to be absorbed by the beach shoes.
Support
The best shoes for walking the beach should allow your feet to move naturally. You need shoes that can support your feet and not those that restrict movement. The sole, in particular, should keep your heel as well as the arch in a natural position.
Generally, wearing a supportive shoe on the beach improves your comfort and allows you to explore the beach for long. The secret is to consider if your feet are high-arched or low-arched and then find matching beach shoes.
Relevant Post: Best Beach Cart for Sand
FAQs
1. Which Are The Best Beach Shoes For Sand?
How about I highlight the features instead? The best beach shoes for sand should be comfortable, breathable, well-drained, flexible, and supportive. Additionally, they should be of quality construction.
That brings us to these recommendations:
2. Why Do I Need To Wear Beach Shoes For Sand?
You need these shoes to protect your feet and get to walk comfortably on the beach. They are built for the beach terrain, thus good value for money.
3. How Can I Take Care Of My Beach Shoes?
It's all about washing the footwear regularly and adequately. You should never leave salt water and sand on your shoes for long as they can damage their construction.
So, ensure you clean your best shoes for hot sand after use with soap and water. Additionally, ensure that they dry properly before wearing them again.
4. Can I Use My Beach Shoes For Sand On Rocky Rivers?
Yes, you can if you buy a beach shoe with quality construction. It should withstand the effects of sharp rocks and other threats. I recommend Neo Sport Neoprene Puncture Resistant Wetsuit Boots for rocky rivers.
5. How About Using Them In The Pool?
It all depends on the shoe type. Remember, the pool contains chlorine, which can cause staining, fading, and other effects. So, your shoes should be able to withstand its adverse effects.
Conclusion
Investing in the best beach shoes to keep sand out should be a priority if you love hiking and camping on the beach. These shoes are built for your ultimate comfort and safety. So, why not buy a quality pick? You can use my guide to identify it.